Mary Zanolini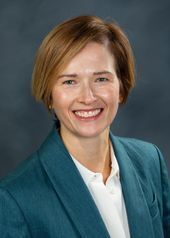 Mary Zanolini is a native of northeast Pennsylvania. After earning a bachelor's degree in accounting from Bloomsburg University, she became a registered Certified Public Accountant in Pennsylvania. While Mary was raised and earned her education in Pennsylvania, her career has taken her throughout the United States and abroad. Mary has worked in senior positions in the finance, audit and compliance departments for large multinational corporations. In her early career, she was privileged to work in public accounting with a diverse group of Pennsylvania's small and large businesses, government entities and not-for-profit organizations, successfully completing assignments in audit, review, compilation and tax.
Mary left the corporate world behind in 2008 to focus on her family. Since then, in addition to caring for her family, she has, as a lifelong learner, developed a broad set of interests. Her endeavors include serving as president for the Harrisburg Academy Families Association, volunteering with her therapy dog, tutoring dyslexic children and studying the fine art of classic tailoring. Mary loves museums and visits as many as possible, both close to home in Pennsylvania and in her travels. 
Mary and her husband of 28 years live in Lemoyne with their teenage daughter and dog, Pippa.