Laura C. Ricketts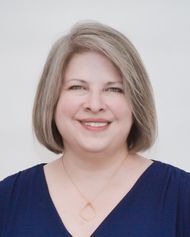 Laura Ricketts grew up in the suburbs of Pittsburgh with a keen appreciation for the built environment. She studied Art History with a specialization in American Architecture at The Pennsylvania State University and the University of Illinois at Urbana-Champaign. She then spent three years living in a garret in Paris and commuting by train to nearby Versailles to teach for UIUC's architectural study abroad program housed in the former stables of King Louis XIV. This extraordinary experience afforded her the opportunity to develop her own courses; to indulge in travel and cosmopolitan living; and to intensify what has been a lifelong passion for museum-going.
Upon her return to Pittsburgh, Laura became a Cultural Resources consultant completing all aspects of Section 106 compliance for historic structures, as well as historic preservation work for private and municipal clients. Laura currently serves as the Senior Architectural Historian and Historic Structures Group Leader for The Markosky Engineering Group, Inc. located in Ligonier, PA.
Laura is also active with the Pittsburgh Modern Committee of Preservation Pittsburgh and has led modern design walking tours for the group. She can regularly be spotted taking classes or perusing exhibits at local museums, and she dedicates much of her free time to creative projects.