Celebrating 40 Years
Join the Pennsylvania Heritage Foundation Board of Directors on
Sunday, April 23, 2023  
from 2:00 pm to 4:00 pm 
at Armstrong Valley Winery in Halifax, PA 
for a fundraiser to support Pennsylvania History
through the work of the Pennsylvania Heritage Foundation
** Must be 21 to attend **
Come and celebrate Pennsylvania's history, wines, and local cheeses and meats. All attendees will savor an assortment of local charcuterie and sample wines from Armstrong Valley Winery. The rich history of the property and descriptive narration of the dry and sweet wines will be shared with each of the five tastings. Complete the event in this beautiful historic setting with an additional glass of wine, chocolate sweets from Pennsylvania chocolatiers and enjoy our silent auction of items that illustrate the charms of the Commonwealth.
Additional beverages will be available in the tasting room for purchase, including hard cider, local craft beer and non-alcoholic options. 
The Pennsylvania Heritage Foundation is the nonprofit partner of the Pennsylvania Historical & Museum Commission (PHMC), the commonwealth's history agency. The Foundation is dedicated to supporting PHMC in their mission to discover, protect and share Pennsylvania's past, inspiring others to value and use our history in meaningful ways. 
Come partner with us as we continue to share the stories of the Commonwealth's heritage to today's generation and beyond.

Purchase Individual Tickets or choose a
Trails of History Sponsorship
Each event ticket to this sit-down, wine-pairing fundraiser includes:
Selection of five wines (your choice of dry or sweet) produced by

Armstrong Valley Winery
Grazing table by Slice of Divine Charcuterie with suggested wine pairings

Ticket for an additional glass of Armstrong Valley wine of your choice

Sweets by Pennsylvania chocolatiers 
Individual Event Tickets 
Commonwealth Heritage Traveler - $55/person 
PHF Membership - $5 discount per ticket purchased by member
Includes choice of dry or sweet wine. A non-alcoholic option is available. Seating is limited.
Sponsorship Levels
     Choose Your Trail:
Rural Farm & Village Trail Travelers - $250
Includes TWO EVENT TICKETS to the event, plus recognition in print and digital materials and related to the event. 
Industrial Heritage Trail Travelers - $500
Includes FOUR EVENT TICKETS to the event, plus recognition in print and digital materials and related to the event. 
Historic Homes Trail Travelers - $1,000
Includes SIX EVENT TICKETS to the event (a full table), plus recognition in print and digital materials and related to the event. 
Military Trail Travelers - Donations Only
Individuals who are unable to join us on April 23 but wish to support the Foundation and help preserve the rich   
history of the Commonwealth.  Click the box below to donate.
All donors will be recognized in print and digital materials related to the event. 
Brief History of Armstrong Valley Winery
In 1769, Robert Armstrong established Gobatsburg Farm with 200 acres of land granted to him by the William Penn Family.  Armstrong was the first to settle in this area, just outside of Halifax, PA. Though this particular farm would be run by the Gobat family, a nearby creek and the valley itself continues to bear Armstrong's name. The property was later transferred to Armstrong's daughter.
Today, approximately 100 acres of farmland remain which hold the 20 acres of vineyards and the historic buildings. The original stone farmhouse, barn, summer kitchen, icehouse, tack house and granary remain today, and are a part of the beautifully restored property, and can be toured when visiting.
---
Purchase Your Tickets
(see grey tab below)
Ticket Sales End Sunday, April 16
Seating is limited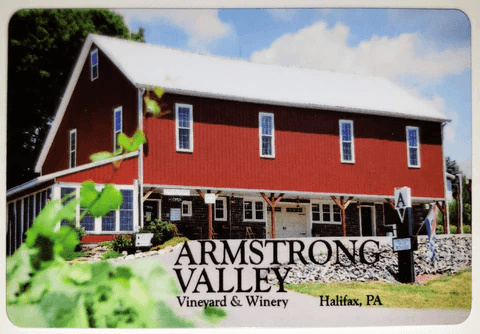 Event Location:
ARMSTRONG VALLEY WINERY
212 Rutter Road
Halifax, PA 17032
Contact Information
Pennsylvania Heritage Foundation
7177872407
---
Thank you to our Sponsors and Donors
C. James and Karen Holliman
Donna Fisher & Thomas Schmidt
Ed Hauck & Stefanie Valar
Glenn & Barbara Holliman Fund - 
a charitable fund of the Perry County Community Foundation, 
a regional foundation of The Foundation for Enhancing Communities (TFEC) 
---
Thank you for your support!
Click on logo for website.