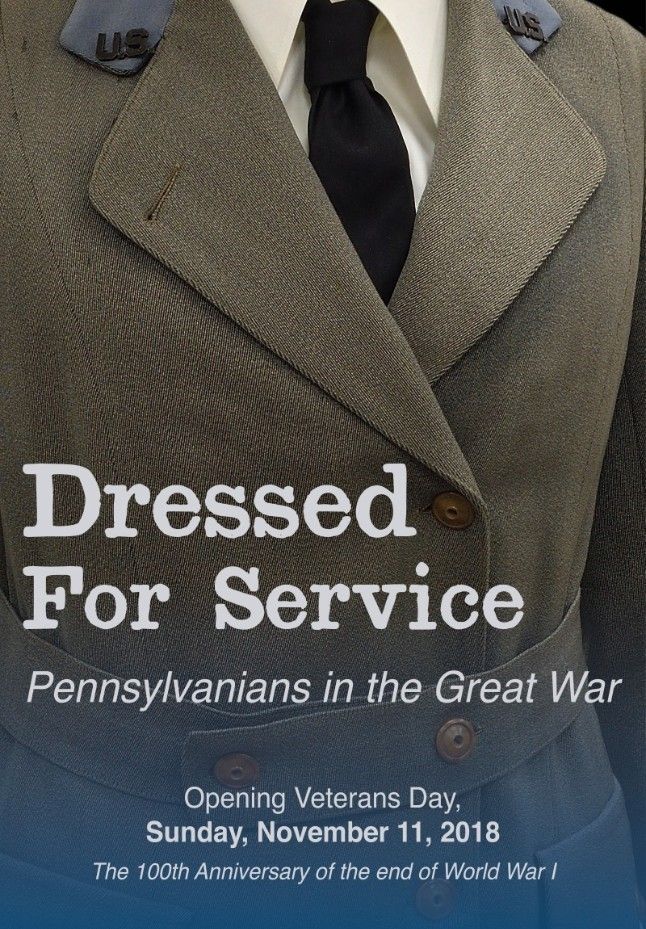 Bells of Peace ceremony, 11 am (please arrive by 10:50 am)
 Dressed for Service exhibit opens 12 noon

Bells of Peace is a collaborative program, held in conjunction with the United States World War I Centennial Commission which has invited organizations across the entire country to toll bells in their communities twenty-one times on Veterans Day, Sunday, November 11, 2018, the 100th anniversary of the end of World War I..
 
The State Museum of Pennsylvania will conduct a brief Bells of Peace ceremony at its location in the Pennsylvania State Capitol Complex with a ringing of its full-size replica of the Liberty Bell at 11:00 a.m., the time of the national tolling.  The State Museum tolling will be accompanied by brief remarks commemorating the service of Pennsylvanians in World War I.

At 12 noon, the museum will open a new special display of 100-year-old uniforms from its collection which were worn by a variety of Pennsylvania citizens in service to World War I.  The exhibit, titled Dressed for Service: Pennsylvanians in the Great War, documents the service of six Pennsylvanians and the contributions of their organizations during World War I. These volunteers preserved their stories through the clothing and the personal effects that they saved.

The State Museum's Liberty Bell, which was cast for display in the 1964 World's Fair, is located on the ground floor outdoor promenade, adjacent to North Street. 
 
Dressed for Service is an augmentation of the museum's Pennsylvania at War gallery which features exhibits of World War I posters and a display depicting the history of the USS Pennsylvania, the flagship of the U.S. Navy in the Pacific during World War II.  These exhibits are located on the museum's first floor.
Please join us!