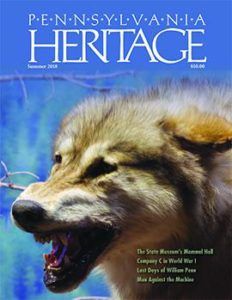 The Summer 2018 issue of Pennsylvania Heritage magazine is available! This summer, enjoy featured articles:
"Windows on Pennsylvania's Natural Places: Restoring Mammal Hall at The State Museum" by Elizabeth Hanson
"The Sacrifices of Company C: Somerset County's Valiant Soldiers in the Great War" by Charles Fox
"The Last Days of William Penn" by Linda A. Ries
"Wrench in the Machine: The Shape of Gubernatorial Campaign's Media Blitz of 1966" by Steve Lilienthal
Other great articles, sharing the collections of the Pennsylvania Historical and Museum Commission, include:
Our Documentary Heritage Major League Murder by Richard Saylor, archivist at the Pennsylvania State Archives
Marking Time Rev. Dr. Leon Howard Sullivan, Global Civil Rights Activist by Karen Galle, Historic Preservation Specialist
Hands-On History, Retail: Pennsylvania Historical Marker Dedications by Nancy Moses, PHMC Chairperson
A Place In Time The Delaware Station of the Philadelphia Electric Company by April E. Frantz, Historic Preservation Specialist
Trailheads Trails to the 28th Infantry Division National Shrine by Amy Killpatrick Fox, Museum Educator
Picturing PA Take Cover! Pennsylvania's Civil-Defense Program by Tyler Stump
Sharing the Common Wealth William Curtis Truxal's World War I Footlocker by Kyle R. Weaver, Pennsylvania Heritagemagazine editor
Book reviews:
The Fearless Benjamin Lay: The Quaker Dwarf Who Become the First Revolutionary Abolitionist by Markus Rediker: reviewed by Emma J. Lapsansky, Haverford College
Sentiments of a British-American Woman: Esther Deberot Reed and the American Revolution by Owen S. Ireland; reviewed by Cynthia A. Kierner, George Mason University
Philadelphia: Finding the Hidden City by Joseph E.B. Elliott, Nathaniel Popkin, and Peter Woodall; reviewed by Kevin Patrick, Indiana University of Pennsylvania
Pennsylvania Farming: A History in Landscapes by Sally McMurry; reviewed by Angela Shope Stiefbold, University of Cincinnati
Biz Mackey, A Giant Behind the Plate: The Story of the Negro League Star and the Hall of Fame Catcher by Rich Westcott; reviewed by Todd M. Mealy, Penn Manor High School
The Pennsylvania Heritage Foundation newsletter:
"PHF Sponsors Children's Visit to Old Economy Village"
"PHF Identifies PHMC's 21st-Century Museums Initiative as a Fundraising Priority"
"PHF Hosts Rotary International Students for Tour of The State Museum"
"PHF Hosts Giving Circle Members at 4th Annual Dinner"
Members receive the Pennsylvania Heritage magazine at home four times a year.