Nancy Lennington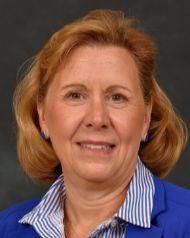 Nancy Lennington grew up in the suburbs of Washington, D.C.  Her parents, starting at an early age, interested her in history and the arts with frequent visits to museums, cathedrals, and other places of historical value and interest.  Nancy graduated from Gettysburg College with a BA in History and minor in Art History.  During her summers, she volunteered as a docent at the Museum of Natural History in Washington, D.C. and Gadsby's Tavern in Alexandria, Virginia.  She also served an internship at Gunston Hall Plantation.
Shortly after graduation from Gettysburg, Nancy and her husband Ken moved to Carlisle.  She subsequently earned a Master of Science in Library Science from Shippensburg University.  She served as Director of the Dillsburg Public Library, Library Cataloger for the Carlisle Area School District, and later as the Children's Librarian at the Bosler Library in Carlisle.
Nancy has been active as a volunteer in Carlisle, serving as Vice President and then President of the Friends of the Bosler Library Board and Chairperson of numerous committees and events.  She was Vice President and President of the Mooreland Elementary PTO and the Cumberland Gymnastics Parents Association, served on the Children's Program Committee at the Carlisle Theater and the Children's Liturgy Committee at Saint Patrick's Catholic Church, and as a museum docent for the Cumberland County Historical Society.  
Nancy and Ken have been married 39 years and have one daughter, Ashley, who lives in Dallas, Texas, and two golden retrievers, Lilly and Trixie.