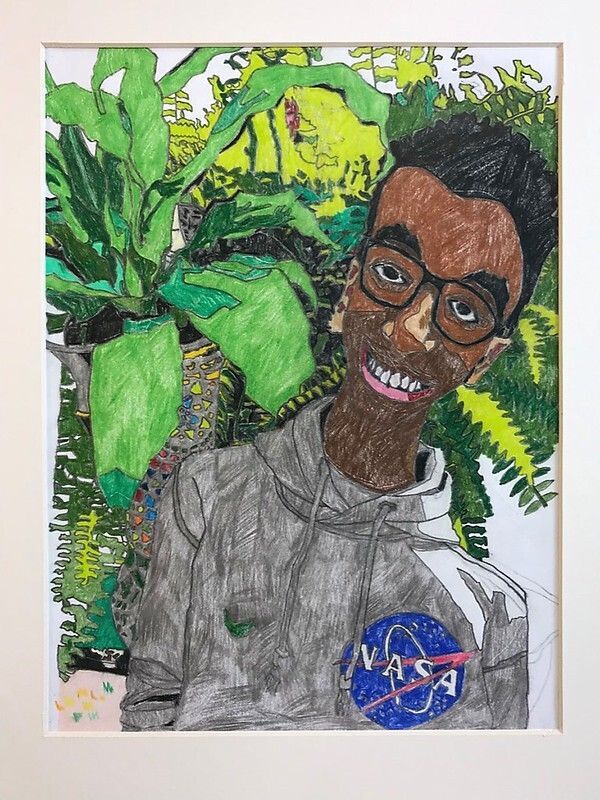 The State Museum of Pennsylvania today announced the recipients of the Art of the State 2022 Purchase Awards. Work selected will become part of The State Museum's permanent collection. The two artists whose work was chosen for Purchase Awards are Malcolm Corley of Lancaster and Matthew Coté of Erie.
Corley's drawing Bruke, created in 2019, is a portrait of the artist's classmate. Corley was diagnosed with autism at age 3 and began to draw when he was very young. Bruke will help to build the relevance of the museum's fine art collection by adding needed representation of artists with neurodevelopmental differences.
Matthew Coté's Full Circle is a fine art brooch that represents the impact of mass shootings on American culture. The title refers to the reoccurrence of mass shootings while each of the 20 rifles on the brooch signifies a year between the Columbine High School massacre in 1999 and the work's creation in 2019. Because Full Circle was designed to be worn and not simply displayed in an art gallery or museum, it represents the role of the artist as activist.
Art of the State is an annual juried exhibition that has showcased the work of Pennsylvania's artists at The State Museum since 1968. This body of art reflects more than a half-century of creative endeavor in the Keystone State. The exhibition runs through Sunday, January 15, so there's still time to view Art of the State before it closes.
Art of State is presented by The State Museum in association with the Pennsylvania Heritage Foundation.
The Pennsylvania Heritage Foundation (PHF) is the nonprofit partner of the Pennsylvania Historical & Museum Commission (PHMC), the state agency charged with collecting, preserving, researching and interpreting the treasures of Pennsylvania. Through private contributions, PHF supports PHMC in protecting and providing access to 23 historic sites and museums, approximately 9 million objects, and more than 250 million archival items.
The State Museum of Pennsylvania, adjacent to the State Capitol in Harrisburg, is one of 23 historic sites and museums administered by PHMC as part of the Pennsylvania Trails of History. The State Museum offers expansive collections interpreting Pennsylvania's fascinating heritage. With exhibits examining the dawn of geologic time, the Native American experience, the Colonial and Revolutionary eras, a pivotal Civil War battleground, and the commonwealth's vast industrial age, The State Museum demonstrates that Pennsylvania's story is America's story.