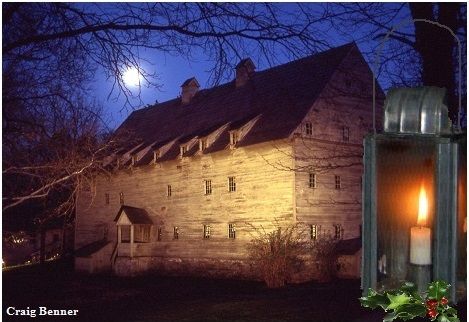 When: Thursday through Sunday, December 26 to 29, 2019
Time: beginning at 6:30 p.m. and every half-hour until 8:00 p.m.
Where:  Historic Ephrata Cloister, 632 West Main Street, Ephrata, PA 17522
Description:
     Imagine getting on a boat in 1751 and sailing to a new land. You arrive as an immigrant, unsure of just where you've come and what you'll find.  That is the adventure awaiting visitors to the annual Ephrata Cloister Lantern Tours on December 26 through 29. Early German immigrants to Pennsylvania found a new home in America with opportunities and some challenges. The captivating story will come to life on the tours as local high school students play the roles of people from Ephrata's history. Along the way, visitors will have a chance to interact with the story and discover some things have not changed in 250 years. For nearly 40 years the Student Historians of Ephrata Cloister have been producing these popular role-playing tours, taking visitors back in time to explore different stories from the community's history.  The tours begin each night at 6:30 p.m. with a new tour leaving the Visitor Center at Ephrata Cloister every half-hour until 8:00 p.m.  Advance tickets for these limited tours are required.  Admission is $10 for adults, $9 for Seniors (age 65+), $7 for youth age 6-17, $5 for children age 3-5, and under age 3 is free.  Tickets sell quickly.  Please call the historic Ephrata Cloister at (717)733-6600 for tickets or more information.
Ephrata Cloister is administered by the Pennsylvania Historical and Museum commission with support from the Ephrata Cloister Associates.