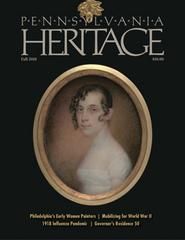 The Fall 2018 issue of Pennsylvania Heritage magazine is available! This fall, enjoy featured articles:
"From the Anonymous Lady to the Peales and the Sullys: Philadelphia's Professional Women Artists of the Early Republic" by Cythina Haveson Veloric
"Stockings, Cap Braids and Bomber Turrets" Wyomissing Industries Mobilizes for World War I" by Robert D. Hill
"1918's Deadliest Killer: The Flu Pandemic Hist Pennsylvania" by Thomas J. McGuire
"Keeping with the Dignity of the Commonwealth: 50 Years of the Pennsylvania Governor's Residence" by David J. Morrison
Other great articles, sharing the collections of the Pennsylvania Historical and Museum Commission, include:
Marking Time Stephanie Kwolek, Inventor of Kevlar by Karen Galle, Historic Preservation Specialist
Our Documentary Heritage Readco and the Transition to Military Manufacturing in World War II by Richard C. Saylor, Archivist
A Place In Time Loleta Recreation Area by Keith Heinrich
Trailheads World War II Trails by Amy Killpatrick Fox, Museum Educator
PHMC Highlights Sean Adkins, Social Media Manager
Wish You Were Here The Old Stone Arch Bridge Over Jack's Creek by Pamela W. Reilly, Historic Preservation Specialist
Sharing the Common Wealth Helen Behal's Jewish Welfare Board Uniform by Kyle R. Weaver, Pennsylvania Heritagemagazine editor
Book reviews:
Smoketown: The Untold Story of the Other Great Black Renaissance by Mark Whitaker; reviewed by Imani D. Owens, University of Pittsburgh
Branch Line Empires: The Pennsylvania and the New York Central Railroads by Michael Bezilla with Luther Gette; reviewed by Dan Cupper, Pennsylvania history author/licensed locomotive engineer
The Pennsylvania Heritage Foundation newsletter:
"PHF Recognizes Past Executive Director and CDO"
"You Can Help Preserve Pennsylvania's History"
"PHF Welcomes New Board Members"
Members receive the Pennsylvania Heritage magazine at home four times a year.
Join today to start your subscription!