Christina M. Stetler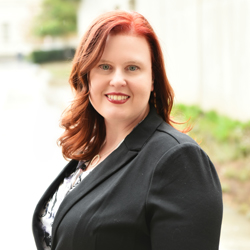 From elementary school onward, Chris has always loved history and has been fascinated with learning the rich stories of people and events from the past. While attending Elizabethtown College in central Pennsylvania, her love of history led her to pursue a minor in the discipline even as she majored in Communications concentrating in Public Relations and Mass Communications.
After working in fundraising for nine years (The Leukemia & Lymphoma Society Southern New Jersey Chapter, UCP of South Central Pennsylvania, and York College of Pennsylvania), Chris earned a Master's degree in American Studies from Penn State University. (Would you believe Penn State gave her a degree with a thesis of "How the national sports media perpetuates fan stereotypes: A case study of the Philadelphia Phillies and Philadelphia Eagles"?) She then had the privilege of working at the Pennsylvania State Archives in the reference section, where she assisted patrons in their research and learned more about birth and death records than anyone should!
When an opportunity at the Pennsylvania Heritage Foundation opened, she jumped at the chance to be more involved in educating people about the activities and importance of the Pennsylvania Historical and Museum Commission (PHMC). Chris now coordinates the membership programs for the Pennsylvania Heritage Foundation and The State Museum of Pennsylvania and works to raise unrestricted funds for use by the PHMC.
Chris lives in York County with her husband and three fur kids (Hi Elizabeth, Domovoi, and Strax!). In her spare time, she enjoys rooting on the home teams (Philadelphia Phillies and York Revolution), taking photographs, traveling, and researching the 1918 Influenza Epidemic in Philadelphia.
---
400 North Street
Harrisburg, PA 17120
Phone: (717) 783-9923
Email: c-chstetle@pa.gov