Joan S. Prescott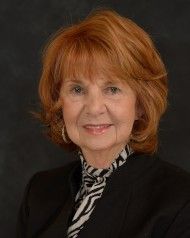 Joan Prescott, a native of Harrisburg, taught English, Speech, and Journalism in the West Shore School District for 25 years. She also was an adjunct professor at both HACC (Harrisburg Area Community College) and Penn State Harrisburg. Throughout her career, she lectured at Shippensburg University, Wilson College, Penn State Harrisburg, Civic Clubs, churches, and retirement homes. Ms. Prescott had the opportunity to be the first teacher to interview the first United States Secretary of Education, Shirley Hufstedler, in 1980.
She is likewise active in the community with several causes, including the Central PA Multiple Sclerosis Society, Rotary Club of Harrisburg (PA Wounded Warriors), Harrisburg School Foundation and Board, and American Diabetes Association and Board. She has served in an executive capacity as the President of the Friends of the State Museum, Executive Director of the Harrisburg School Foundation, President of the Harrisburg Foreign Policy Association, the Vice-President and President of the West Shore Education Association, and President of the Exchange Club of Harrisburg.
Her dedication to the community has been recognized with Woman of the Year by Harrisburg Open Stage, the Community Service Award from the Rotary Club of Harrisburg, and as Volunteer of the Year from the Friends of the State Museum, as well as the American Cancer Society.