November 28, 2020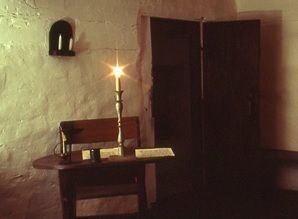 Virtual Candlelight Chat 
Saturday, November 28, 2020
7 pm
History comes to life as the Historic Ephrata Cloister offers a Candlelight Chat on Saturday, November 28 at 7:00 p.m. This Facebook Live event returns viewers to the year 1782 where a member of the Ephrata Cloister community, Michael Miller, is waiting to share news from the past. Miller, a married Householder member of the Cloister was a jack of all trades. Judging from his surviving personal account book he had customers throughout the neighborhood.
The live event will allow viewers ask questions of Miller and discover some stories that may relate to modern life. The new program offers a virtual substitute for the Candlelight Open House, which traditionally opens the holiday season at the historic site.
Registration for the program is available for a $1.00 donation, and can be made here or go to https://www.facebook.com/HistoricEphrataCloister/, go to EVENTS.
Historic Ephrata Cloister is administered by the Pennsylvania Historical and Museum Commission with support from the Ephrata Cloister Associates. Grant support provided by the Pennsylvania Humanities Council, and the Borough of Ephrata Cultural Arts Grant has made funding for the new virtual format of this program possible. The Associates also continue to operate The Museum Store at Ephrata Cloister, offering a selection of hand-crafted items, book, and limited-edition Christmas Cards. Contact The Museum Store directly at (717) 733-2592 or c-dganseii@pa.gov to discuss purchases and pick-up arrangements.
            For more information on the Historic Ephrata Cloister and the site's activities, check out the website at ephratacloister.org or https://www.facebook.com/HistoricEphrataCloister/.