January 21, 2021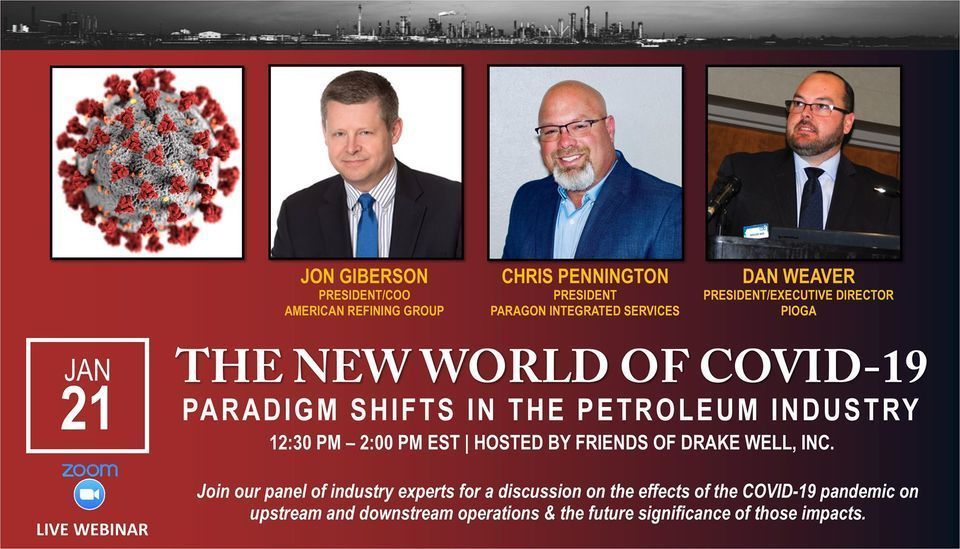 Drake Well Museum and Park
The New World of COVI-19: Paradigm Shifts in the Petroleum Industry
January 21, 2021
12:30 - 2 pm
While the boom-and-bust cycle has long characterized the petroleum industry, the historic challenges due to COVID-19 have created questions around the long-term effects for the oil market. What is the new-normal for oil demand? And in a post-pandemic world, what will be the long-lasting implications for the energy sector?
Join a panel of industry experts on Thursday, January 21st from 12:30 p.m. to 2:00 p.m. ET as they explore the effects that COVID-19 has had on upstream and downstream operations and the future significance of those impacts.
David DuBois, President of Friends of Drake Well, Inc. will moderate the discussion. DuBois is a chemical engineer with years of experience working in the oil and energy industry. Joining DuBois for the panel discussion, entitled "The New World of COVID-19: Paradigm Shifts in the Petroleum Industry," will be:
Jon Giberson, President & COO of American Refining Group;
Chris Pennington, President of Paragon Integrated Services;
Dan Weaver, President of Pennsylvania Independent Oil and Gas Association.
A question and answer session will follow the panel's analysis.
Cost to attend is $30. Space is limited and pre-registration is required.
To reserve your spot, visit: 
https://drakewell.networkforgood.com/events/26189-the-new-world-of-covid-19?fbclid=IwAR3KG4LS4NFa9lVPXJUFB3nobfA2jp3sywh3frcy7zU_oNLb2f8bQrx4D0A