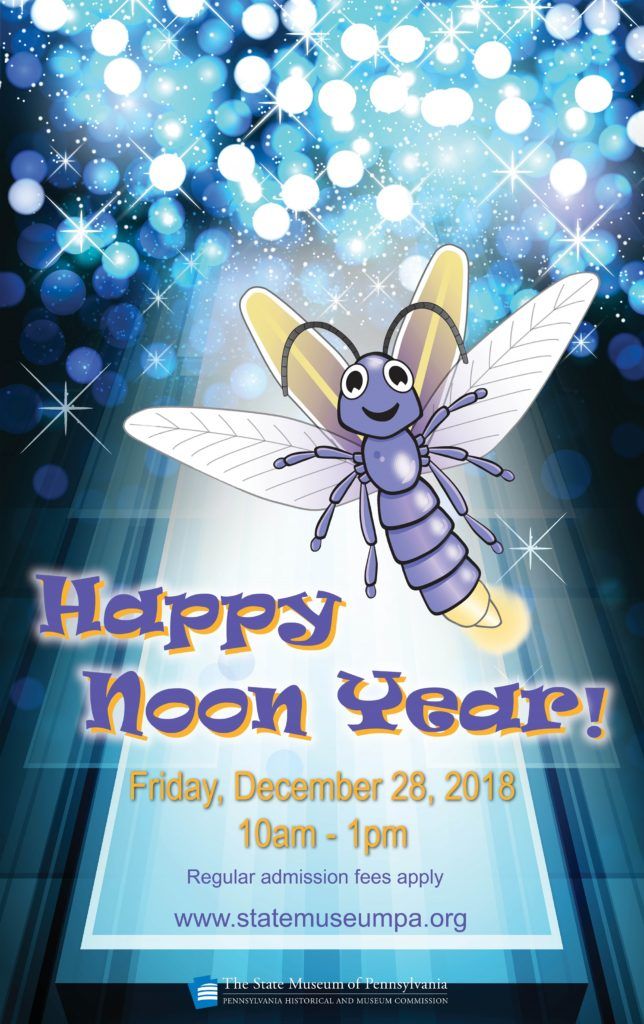 The State Museum of Pennsylvania will present its annual Noon Years celebration on Friday, December 28, from 10:00 AM to 1:00 PM. At this family-friendly event, children and their families are invited to ring in the New Year. Kids can make crafts, play games, enjoy snacks, and have a special balloon made by Trist'n Shout balloon artists.
The museum's popular Noon Years countdown and dropping of its famous firefly will be held at 12:00 noon in Memorial Hall.
Eric Energy will present two shows: Science Spectacular, at 11:00 AM, about air and matter, vortex fog rings, bubbling potions, and clouds on the ground; and Spark Attack at 12:15 PM, covering circuits, sound waves, and different kinds of light and demonstrating indoor lightning, a voice changer, and a real laser light show.
Curiosity Connection will be open during the event for visitors under age 5 for activities and play, but space is limited. Free timed tickets are required for 45 minutes of play. Tickets are available at the Ground Floor Information Desk upon arrival. Curiosity Connection will open at 9:15 AM and close at 2:00 PM.
The Planetarium will be offering Animals of the Night at 10:15 AM, 10:45 AM, 11:15 AM, and 12:30 PM. Designed for children, this traditionally styled show helps viewers use their imaginations to see pictures in the sky, learn about constellations, understand basic movements of the Earth, and discover animals that can be found both in Pennsylvania and in its night sky. Planetarium shows are an additional $3 per person. Space is limited, and tickets are required.
The Noon Years event is included with general admission to the museum. Although no reservations are required, Planetarium tickets and Curiosity Connection Playtime tickets are limited and may be unavailable late in the day.