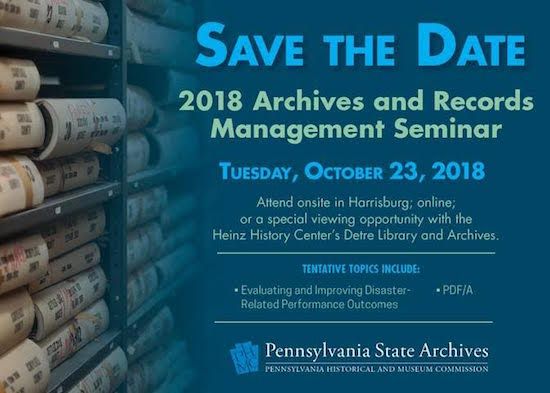 October is American Archives Month! Archives Month is intended to raise public awareness about the importance of historic documents and records.
To further that, the Pennsylvania State Archives is hosting the Annual Archives and Records Management Seminar on Tuesday, October 23, 2018. The topics covered this year include:
Why PDF/A for preservation? Stephen Lawson, who was instrumental in the development of the PDF/A ISO standard will discuss the nuts and bolts of the PDF/A format as well as its practical application for those wishing to retain electronic records into the future.
Evaluating and Improving Disaster Related Performance Outcomes. How equipped are you or your staff to protect essential records? How prepared are you for a records-related disaster? Would you know how to respond to a disaster to records afterwards? Samantha Forsko from the Conservation Center for Art and Historic Artifacts (CCAHA) and Josh Stahlman of the Pennsylvania State Archives will walk you through a five-step progression matrix, enabling you to pinpoint your current standing and identify steps to progress towards becoming a preparedness leader in each of these areas.
All are welcome to attend this educational and informative seminar. Registration is due by Wednesday, October 17, 2018 either onsite at the Harrisburg Capitol Media Center (space is limited to the first 45 people to register for onsite attendance), online, or at the Heinz History Center's Detre Library and Archives. Registration is free, but must be received by close of business on Wednesday, October 17, 2018.
This training is made possible in part through a National Historical Publications and Records Commission State Board Programming Grant.