Select Thursdays Jan and Feb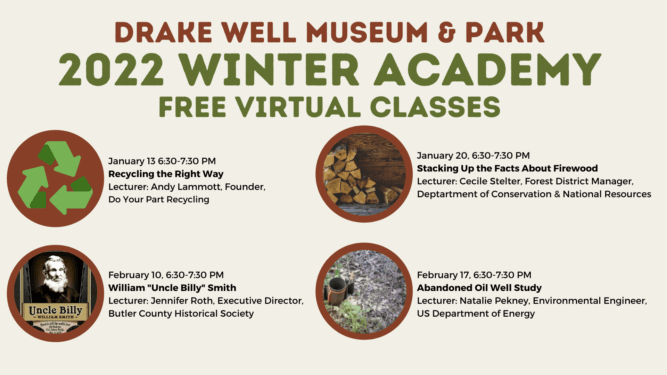 2022 Winter Academy
Thursday, January 13
Thursday, January 20
Thursday, February 10
Thursday, February 17
6:30-7:30pm
Combat the Winter Blues with free virtual classes designed to help you discover more about the oil industry and region. the classes will take place on Zoom and registration is required for each individual class.
January 13 - Recycling the Right Way – Andy Lamont will share his story of founding the Do Your Part Recycling Drop-Off in Benton, Illinois. Participants will learn how to start a recycling program and how to properly recycle all types of materials, including plastic – one of the most common products made from petroleum. Click here to register.
January 20 – Stacking Up the Facts About Firewood – Find out the facts about firewood from District Forester Cecile Stelter. Participants will learn what species of trees make the best firewood, how to estimate volume of firewood, the pros and cons of heating with wood in comparison with other forms of energy, and much more. Click here to register.
February 10 – William "Uncle Billy" Smith – Learn all about William "Uncle Billy" Smith's important role in the first oil strike at Drake Well with lecturer Jennifer Ford, Executive Director of the Butler County Historical Society. Click here to register.
February 17 – Abandoned Oil Well Study – Explore the results of an abandoned oil well study at Oil Creek State Park conducted by the National Energy Technology Laboratory (NETL) using helicopter and drone survey methods. The study investigated various electromagnetic and LiDAR methods to map the location of well sites within the park, and quantified methane emissions from abandoned wells. Lecturer Natalie Pekney is an Environmental Engineer on the Field Monitoring Team in the Geological and Environmental Systems Directorate of the U.S. Department of Energy National Energy Technology Laboratory. Click here to register.