October 12, 2021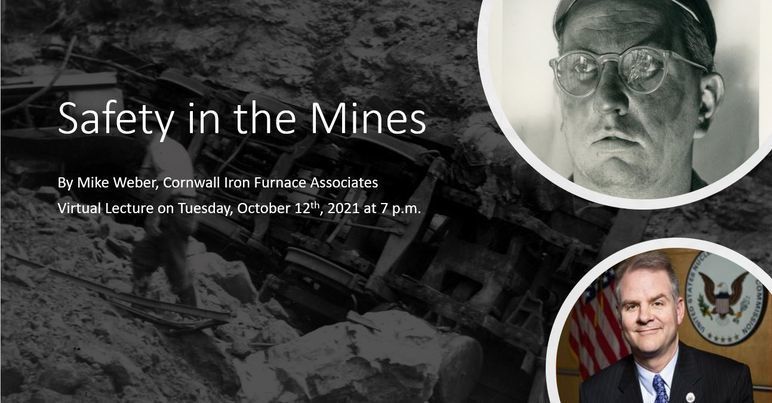 Cornwall Iron Furnace
Lecture: Safety in the Mines
Tuesday, October 12
7pm
Are you ready for a fright? Not a Halloween fright, but rather a day in the life of a miner at Cornwall Mines in Cornwall, Pennsylvania. Imagine plunging from daylight into darkness while descending 500 feet in a minute or prying rocks overhead that were large enough to crush you in an instant. Although the companies that operated the mines and the miners worked hard to ensure their safety, mining was a risky occupation and the safety measures were not always successful. Please join the Cornwall Iron Furnace Associates for a brief talk about the Safety in the Mines.
The presenter will be Michael Weber, who volunteers as a guide and researcher at Cornwall Iron Furnace. As a 1982 geosciences graduate from Penn State, Mike worked for 36 years as a geologist, health physicist, and manager for the U.S. Nuclear Regulatory Commission and the U.S. Geological Survey. After retiring from Federal service, he returned to Cornwall Furnace, where he serves as a guide and researches the history of mining and the geology at Cornwall and similar deposits in PA.
Mike Emery (CIF Administrator) will moderate a brief discussion at the end of the presentation.
This is an online lecture that will utilize the Zoom platform.
Space is limited, and registration is required. To register click here.
This presentation is offered at no cost to attendees, but donations are appreciated.