October 11, 2022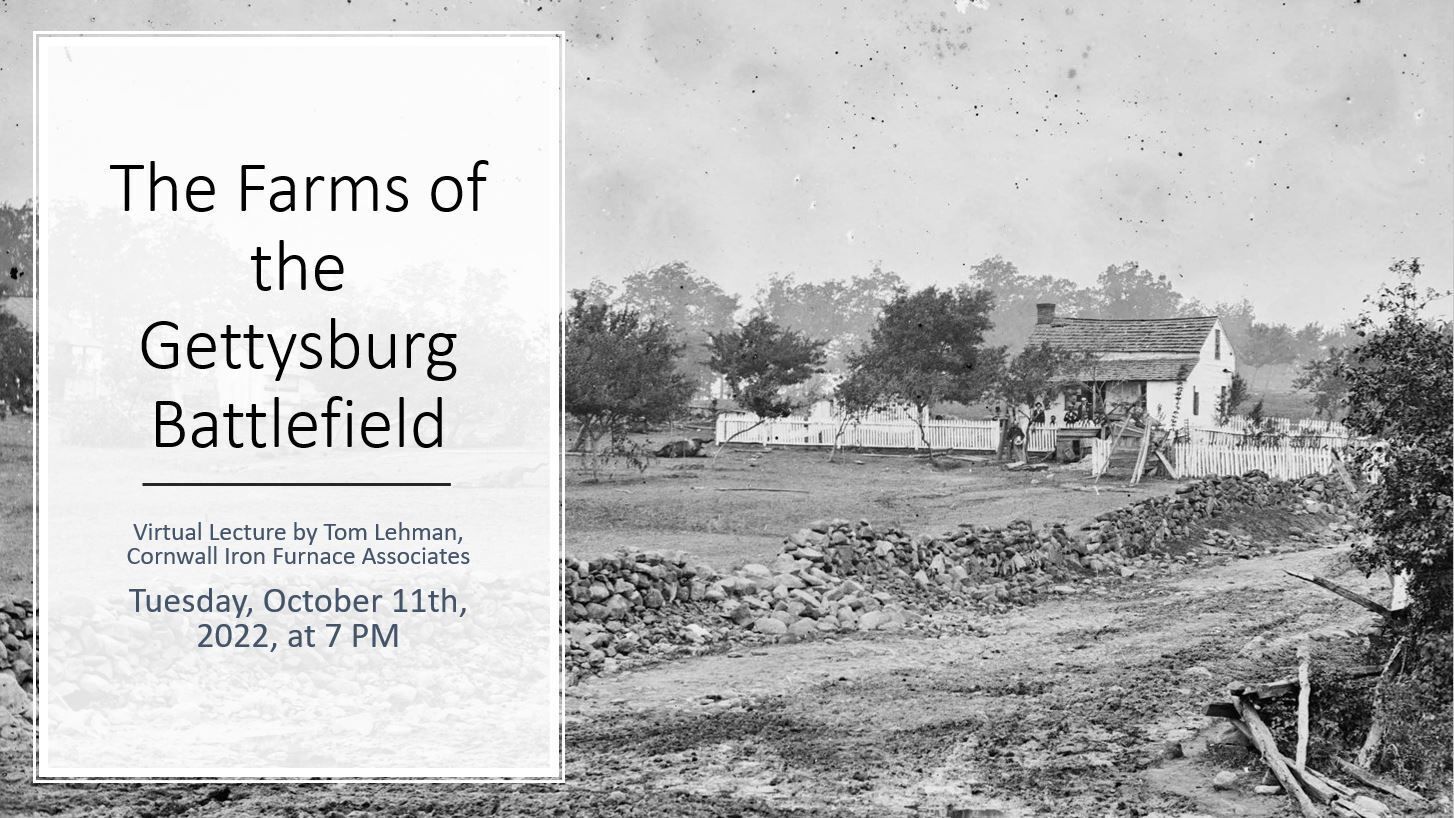 Lecture: The Farms of Gettysburg Battlefield
Tuesday, October 11
7pm
Gettysburg was a pivotal battle of the American Civil War, and it was fought on Pennsylvania soil. Historians have written about the commanders, George Meade and Robert E. Lee, and about the various military units, the tactics they employed, and the mistakes that they made. Few people however have told the stories of the 2,400 people who lived in the town of Gettysburg and the surrounding farms in 1863. War came to the doorsteps of these unwitting civilians and changed their lives forever. Please join the Cornwall Iron Furnace Associates and Tom Lehman for this virtual presentation about the Farms of the Gettysburg Battlefield on Tuesday evening, October 11th, at 7 p.m. via Zoom. The speaker will give a slide illustrated talk about 14 farms, their owners, and their role in the July 1863 battle.
The presenter, Tom Lehman, is a resident of Minersvillage who has volunteered as a guide at Cornwall Iron Furnace since 2009. Tom has had a lifelong interest in the Civil War and has a special affinity for Gettysburg. Tom has been active in learning and teaching about the Civil War for almost 50 years. He began as a reenactor in 1976, has lead Gettysburg Battlefield tours for students and adults, and has been the program chairman for the Hershey Civil War Round Table for the past eight years.
Mike Emery (CIF Administrator) will moderate a brief discussion at the end of the presentation.
This is an online lecture that will utilize the Zoom platform.
Space is limited, and registration is required. To register please go to:
https://us02web.zoom.us/.../reg.../WN_6qg3NRKfQq6cZ5_0yKt-eg
This presentation is offered at no cost to attendees, but donations are appreciated