October 10, 2023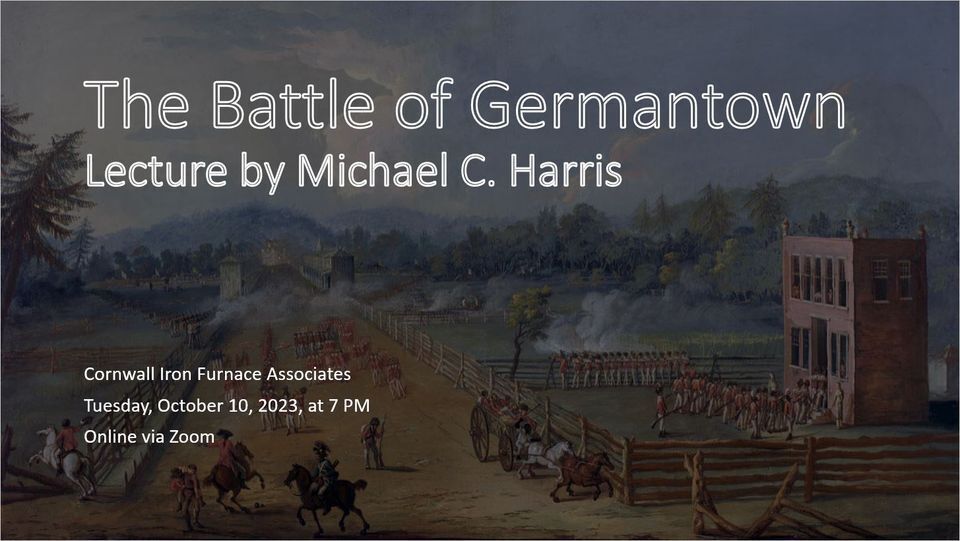 Lecture: The Battle of Germantown
Tuesday, October 10
7pm
Two Hundred and forty-six years ago Pennsylvania was invaded by a British force led by General William Howe. General George Washington in an attempt to defend the capital of Philadelphia met Howe on the field of battle near the Brandywine Creek. The result was the largest battle of the American Revolution and an American loss. On October 4th, 1777 the two armies fought again on the outskirts of Philadelphia in and around the community of Germantown. It is this battle that will be the topic of the lecture. The Cornwall Iron Furnace Associates is virtually hosting speaker, Michael Harris and his presentation, the Battle of Germantown, on Tuesday evening, October 10th, at 7 p.m. via Zoom. Harris will be drawing on the extensive research that he did for his book, Germantown: A Military History of the Battle for the Control of Philadelphia, October 4, 1777.
The presenter, Michael C. Harris is a graduate of the University of Mary Washington and the American Military University. He has worked for the National Park Service in Fredericksburg, Virginia, Fort Mott State Park in New Jersey, and the Pennsylvania Historical and Museum Commission at Brandywine Battlefield. He conducted tours and staff rides of many of the east coast battlefields. Michael is certified in secondary education and currently teaches in the Philadelphia region. He lives in Pennsylvania with his wife, Michelle, and son, Nathanael. His first book, Brandywine, was awarded the The American Revolution Round Table of Richmond book award in 2014.
Mike Emery (CIF Administrator) will moderate a brief discussion at the end of the presentation.
This is an online lecture that will utilize the Zoom platform.
Space is limited, and registration is required. To register please click here.

This presentation is offered at no cost to attendees, but donations are appreciated.