June 7, 2022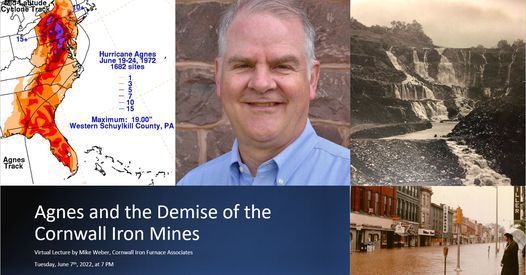 Lecture: Agnes and the Demise of the Cornwall Iron Mines
Tuesday, June 7
7-8pm
Fifty years ago, Tropical Storm Agnes struck Lebanon County and forever affected the lives of many in the area. On Tuesday, June 7th Mike Weber will present a talk titled, "Agnes and the Demise of the Cornwall Iron Mines." After a brief introduction, Mike will review threats to mining operations, harbingers at the Cornwall Mines, Tropical Storm Agnes, regional and local impacts of the storm, and how flooding ultimately contributed to the closure of the mines in 1973. The Cornwall Iron Furnace Associates is hosting this virtual presentation on Tuesday evening, June 7th, at 7 p.m. via Zoom.
The presenter will be Michael Weber, who volunteers as a guide, researcher, and lecturer at Cornwall Iron Furnace. As a 1982 geosciences graduate from Penn State, Mike worked for 36 years as a geologist, health physicist, and manager for the U.S. Nuclear Regulatory Commission and the U.S. Geological Survey. After retiring from Federal service, he returned to Cornwall Furnace, where he serves as a guide and researches the history of mining and the geology at Cornwall and similar deposits in PA.
Mike Emery (CIF Administrator) will moderate a brief discussion at the end of the presentation.
This is an online lecture that will utilize the Zoom platform.
Space is limited, and registration is required. To register please go to: https://us02web.zoom.us/.../reg.../WN_-frLd5HrQneI8x0qKPlbxw
This presentation is offered at no cost to attendees, but donations are appreciated.