Wednesdays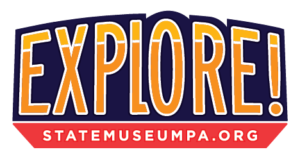 Explore!
Wednesdays 11:30am-12:30pm
Pennsylvania is all around us, and we want to help you to explore our state!  Explore! is a program for kids in grades 3-5 to take their curiosity further and dig deeper into nature, art, science, and history topics.  Join us to explore Pennsylvania! 
Sign up at the Ground Floor Information Desk when you enter the Museum. If you have any questions about this program, please email our Museum Educators at ra-educationoutreach@pa.gov

This program is located in Nature Lab and is included with general admission.

September 7
Explore! Amusement Parks
Explore the history of amusement parks and Pennsylvania's role in its many innovations including the first roller coaster. Create your own carrousel toy.

September 14
Colonial Games and Puzzles
Discover and play with the toys, games and puzzles from colonial Pennsylvania. Test your skills with a bilbo catcher, Jacob's ladder and see if you can make a hoop go with just a stick.

September 21
Explore! Color
Explore more about color! Learn about color theory, how animals use color to survive and communicate and practice a printmaking technique using primary, secondary and tertiary colors.

October 5
Explore! Things that are Gross
Explore more about the gross fluids from our bodies, how they help us function and the science of polymers. Make some mucus to take home!

October 19
Explore! Archaeology
Explore the artifacts from the archeological dig at Fort Hunter. Uncover the hundreds of years of occupation and the mysteries the dig uncovered. Test your own archaeological skills.

October 26
Family Gallery Tour: Mammal Hall Restoration
This family friendly tour looks at the Restoration of Mammal Hall exhibit. A museum educator will discuss the history of the original dioramas from 1968, as well as the science and art behind the 3-year restoration project completed in 2018.

November 2
Explore! Black Bears
Explore! more about the history of the black bear in Pennsylvania, the unique adaptations that help them to survive, the senses that black bears rely on, and what happens when black bears interact with humans. Then discover what bears have to do with the constellations.