Wednesdays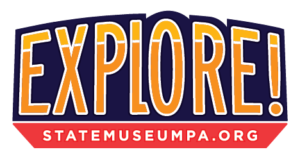 Explore!
Wednesdays 11:30am-12:30pm
Pennsylvania is all around us, and we want to help you to explore our state!  Explore! is a program for kids in grades 3-5 to take their curiosity further and dig deeper into nature, art, science, and history topics.  Join us to explore Pennsylvania! 
Sign up at the Ground Floor Information Desk when you enter the Museum. If you have any questions about this program, please email our Museum Educators at ra-educationoutreach@pa.gov

This program is located in Nature Lab and is included with general admission.
December 8
Explore! Art in Nature
Art can mimic nature in paintings and sculptures, or art can be made from nature using leaves, sticks, stones and even bones. Explore more about creating art from items in nature.

December 15
Explore! Weaving
Join us as we Explore textiles used in early Pennsylvania. Create your own design incorporating these early weaving techniques.
 
December 22
Explore! Winter
In North America we experience four seasonal changes each year – winter, spring, summer, and fall. Each season in Pennsylvania is unique in its characteristics of change in temperature, precipitation, and length of time for sunlight. Explore more about the changing of the seasons from Fall to Winter and how it affects the plants and animals in Pennsylvania.
December 29
Explore! New Year's Traditions
Join us as we Explore Pennsylvania New Year's traditions. Create your own noise maker as we count down to 2022.
January 5
Explore! Owls in Pennsylvania
From the Eastern screech owl to the great horned owl, birds of prey may vary in size, but are all efficient hunters. Explore more about owls in Pennsylvania, their habitats, adaptations, and examine the prey that they hunt.
January 12
The Games & Puzzle Challenge
Join us for the Gallery Experience and test your knowledge and skills with a variety of games and puzzles.
January 19
Explore! One-Room Schoolhouse
Through much of Pennsylvania's settlement, children attended school in just one room. Explore the objects that were one used in this classroom. Using original lessons, test your skills to see how well you would have done in reading, writing and arithmetic.  
January 26
Family Gallery Tour: Mammal Hall
This family friendly tour looks at the animals in the Mammal Hall dioramas. Using hands on objects, a museum educator will help you explore more about these animals, their habitats and how adaptations allow these animals to live within Pennsylvania.