Wednesdays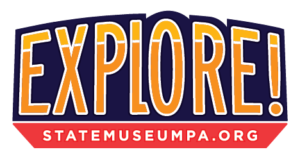 Explore!
Wednesdays 11:30am-12:30pm
Pennsylvania is all around us, and we want to help you to explore our state!  Explore! is a program for kids in grades 3-5 to take their curiosity further and dig deeper into nature, art, science, and history topics.  Join us to explore Pennsylvania! 
Sign up at the Ground Floor Information Desk when you enter the Museum. If you have any questions about this program, please email our Museum Educators at ra-educationoutreach@pa.gov

This program is located in Nature Lab and is included with general admission.


January 28: Can Groundhogs Predict the Weather?
Can groundhogs predict the end of winter? How would they know when spring is coming? Learn more about the groundhogs in Pennsylvania, the weather in our state and make an aneroid barometer to make predictions at home.

February 8: Homeschool Day: PA Land and People
 
February 22: Yuck! What are Germs?
Explore the science of epidemiology – the cause, spread and control of bacteria, viruses and other "germs" that can make us sick. Mimic how microbiologists use "germs" to make art in a petri dish.

March 15: Homeschool Day: Oasis in Space

March 29: Simple Machines
What are simple machines? How do they work and why do we use them? Come explore and experiment with these basic tools.