Wednesdays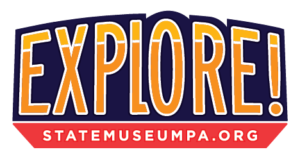 Explore!
Wednesdays 11:30am-12:30pm
Pennsylvania is all around us, and we want to help you to explore our state!  Explore! is a program for kids in grades 3-5 to take their curiosity further and dig deeper into nature, art, science, and history topics.  Join us to explore Pennsylvania! 
Sign up at the Ground Floor Information Desk when you enter the Museum. If you have any questions about this program, please email our Museum Educators at ra-educationoutreach@pa.gov

This program is located in Nature Lab and is included with general admission.
April 13
Family Gallery Tour: Mammal Hall
This family friendly tour looks at the animals in the Mammal Hall dioramas. Using hands on objects, a museum educator will help you explore more about these animals, their habitats and how adaptations allow these animals to live within Pennsylvania.
April 20
Explore! Earth Day
Invest in our planet on Earth Day 2022! What can you do to help make change? Explore more about how reducing, reusing and recycling will reduce waste and improve the lives of all living things in Pennsylvania.
April 27
Victorian and Industrial Age Games, Toys and Puzzles
​​​​​​​Join us to explore Victorian and Industrial Age Games & Puzzles. Test your knowledge and skills with a variety of games and puzzles like Jacks, Graces, and mechanical toys from the 1820's to the 1900's.