October 14, 2023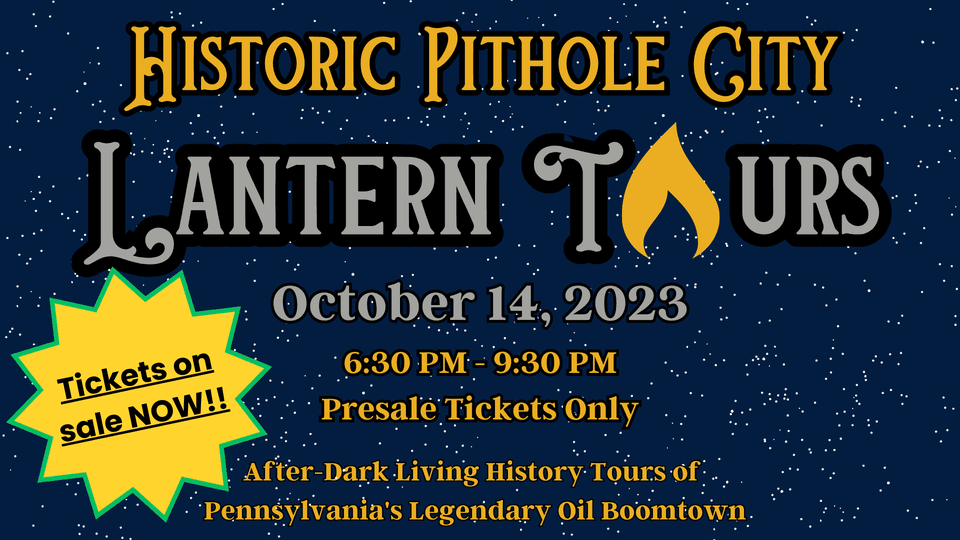 Beyond the Trail - Historic Pithole City
Lantern Tours
Saturday, October 14
6:30 - 9:30pm
Join us for the Historic Pithole City Lantern Tours and experience history as it comes to life! Visitors will walk the former streets of the legendary oil boomtown, meeting some of Pithole's most famous historical figures along the way.
Tours depart every 10 minutes beginning at 6:30 p.m. with the last tour departing at 9:30 p.m. Each tour lasts approximately 90 minutes.
Visitors are encouraged to arrive early, wear weather-appropriate clothing, and bring a flashlight. NOTE: the tours cover steep hills and semi-rugged terrain. Please wear sturdy shoes suitable for walking. Tours are walking only; golf carts and other vehicles are not provided.
Tickets are $10 each and can only be purchased in advance! Tickets are available for purchase online by clicking HERE as well as by calling 814-827-2797 or in-person at the Drake Well Museum Store during its hours of operation.
For questions or concerns, please contact Drake Well Museum and Park at 814-827-2797.