May 19, 2022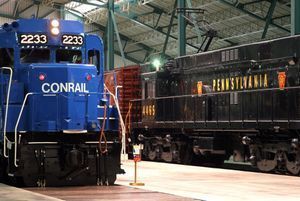 Railroad Museum of Pennsylvania
STEAM on the Rails
Thursday, May 19
10am - 1pm
School students will learn how science, technology, engineering, arts, and mathematics in our daily lives through this special event.
About this event:
Looking for an educational experience for your students? Register your school group for the Railroad Museum of Pennsylvania's STEAM on the Rails program! Designed for students, grades K through 6, this program investigates the importance of STEAM (Science, Technology, Engineering, Arts and Mathematics) in railroading and our daily lives. Guides and demonstrators from the region will provide a fun and engaging experience.
Activities will take place at station stops throughout the museum, including:
Behind-the-scenes tours(locomotives, passenger cars, even a caboose!)
Live steam demonstration
Live blacksmithing demonstration
Hands-on art activity- make your own Railroading logo
Historic railroading jobs stations!
Pre-registration is required via Eventbrite for your school group to attend the event. Please give us your best estimate for attendance. Any refunds will be sent via check after the event day. If your group is unable to pay with a credit card, please contact us to discuss alternative payment.
COVID-19 Protocols: Maximum attendance is limited to maintain safe social distancing, as well as staffing concerns. Masks will be available at the front desk and are encouraged, but not required to attend. Equipment tours will be done in small groups to avoid overcrowding.
Questions?
Please contact Juliette O'Connor, Museum Educator with any questions about the event at 717-687-8628 ext. 3025, or juoconnor@pa.gov.