June 17, 2023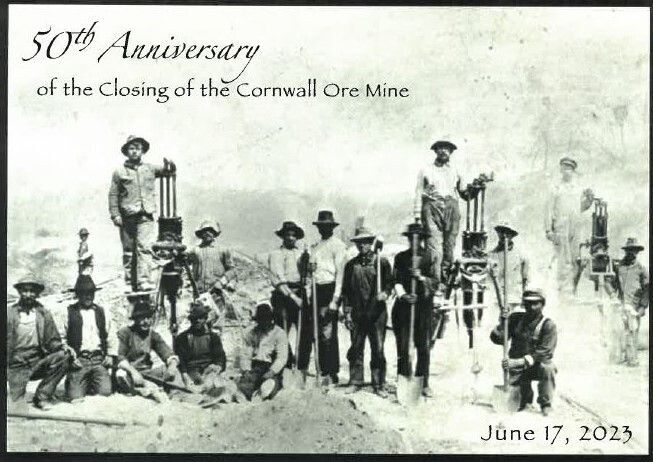 50th Anniversary of the Closing of the Cornwall Ore Mine
Saturday, June 17
10am
Held at the Cornwall Elementary School
Friends of Cornwall Iron Furnace to Commemorate 50th Anniversary of the Closing of Cornwall Ore Mine
The Friends of Cornwall Iron Furnace will be honoring the legacy of the historic Cornwall Ore Mine on Saturday, June 17th, 2023, as they commemorate the 50th anniversary of the mine's closing.
This free family-friendly and wheelchair accessible event will begin at 10:00 am in the Cornwall Elementary School auditorium with remarks and recollections from community historians and local dignitaries. The tribute will conclude with the recognition of those former miners in attendance as well as a wreath-laying ceremony at the miner statue in front of the school. Guests will then be invited back to Cornwall Iron Furnace for refreshments and fellowship.
In conjunction with the anniversary event, the Friends will be officially unveiling a new publication, "Always More Production," by local geologist and historian, Michael Weber. The book, which will be available for purchase that day, offers a scholarly and well-researched history of Cornwall's mining operations, featuring many photographs and historic documents as well as information garnered from records of the Cornwall Ore Bank Company and Bethlehem Steel Corporation. Mr. Weber will be on-hand to meet guests and sign copies of his book.
Historically, the Cornwall Ore Mine was one of the most productive iron ore mining enterprises in the world. Beginning in 1737, over 106 million tons of ore were unearthed, and thousands of workers made the villages of Cornwall, Burd Coleman, Rexmont, and Miners village their homes. As a result of Tropical Storm Agnes and market forces, mining ceased at Cornwall in 1973, closing the books on 236 years of operations.