December 12 and 25, 2021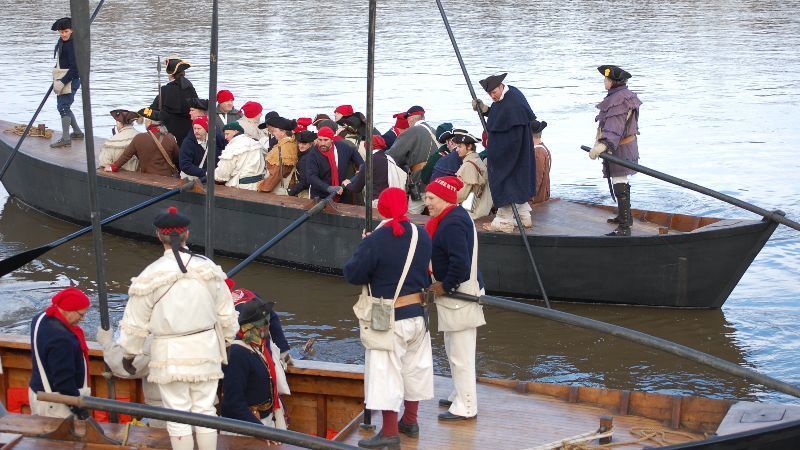 Washington Crossing Historic Park

Reenactment
First Crossing: Sunday, December 12  10am -4pm Actual Crossing at 1pm
COST: $8 for adults, $4 for children ages 5-11, free for children younger than 5. Family rate (2 adults and 2 children) is $20.
DETAILS: In addition to the crossing reenactment, special colonial-era activities and demonstrations in the Historic Village will offer a full day of family fun and learning
Christmas Day Crossing: Saturday, December 25 Noon - 3pm Actual Crossing at 1pm
COST: Free
Click here to purchase tickets.
Witness the Crossing that saved the Revolution
Each December, thousands of people gather on the banks of the Delaware River to watch the reenactment of George Washington's daring 1776 Christmas night river crossing. During the event, several hundred reenactors in Continental military dress listen to an inspiring speech by General Washington and then row across the river in replica Durham boats.
ADDITIONAL DETAILS
Reenactors may register online from September 1 through November 15. All participating reenactors should review our clothing guidelines.
Washington Crossing Historic Park is located at the intersection of Routes 532 and 32 (River Road) in Washington Crossing, Pennsylvania.
Directions to the park can be found here. Parking will be clearly marked.
Individuals with disabilities who need special assistance or accommodations to attend should call the Visitor Center at 215-493-4076.
River crossings are contingent upon safe conditions for participants. However, even if conditions do not allow for crossing, ceremonies, speeches and commemorative activities still occur.
For more colonial-era activities, the Old Barracks Museum in Trenton hosts reenactments of the Battle of Trenton and other celebrations during its annual Patriots Week festivities.
Drones are not permitted at these events.