Saturday, November 9, 2019
The State Museum of Pennsylvania
300 North Street
Harrisburg, PA 17120-0024
Defining Monongahela: Western Pennsylvania's Archaeological Mystery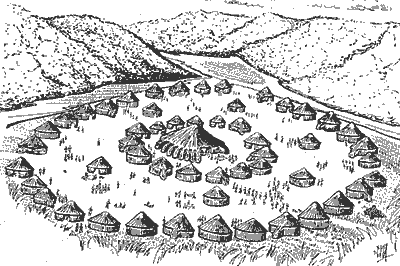 Please join us in exploring the story of the Monongahela Indians. Beginning around 1000 AD, they were the dominant Indian culture in southwestern Pennsylvania, eastern Ohio and northern West Virginia. Their distinctive pottery, circular houses, maize dominated diet, ring-shaped village patterns and social organization provide archaeologists with an interesting picture of the lives of these people. Both their origins and disappearance will be examined. What factors played a role in the transition from living in small farmsteads growing a variety of plant foods (sunflower, maygrass, squash) to living in large stockaded villages with maize as the most important element in their diet? The mystery of what caused the demise of the Monongahela during the Protohistoric period (1590–1635 AD) has been debated and researched by archaeologists for decades. Our panel of experts will explore the archaeological record of this group and share new data and insights into these questions.
How does the story of the Monongahela differ from other Indian tribes in the Middle Atlantic region such as the Susquehannock Indians or their Delaware Indian neighbors? What role did the environment, economy and arrival of the Europeans play in the survival of these groups? These questions and many others will be explored during this fascinating program.
The day also includes a flint-knapping demonstration, instruction in recording archaeological sites and artifact identification, and admission to The State Museum of Pennsylvania. Archaeology and history enthusiasts are encouraged to attend this informative program that will provide additional insight into the story of the Monongahela Indians and Pennsylvania's past.
---
Session Descriptions
9:00 a.m. –  9:15 a.m
Opening Remarks
Beth Hager, Director, The State Museum of Pennsylvania
9:15 a.m. –  9:30 a.m.       
Introduction and Logistics 
James Herbstritt, Preservation Specialist, The State Museum of Pennsylvania
9:30 a.m. – 10:00 a.m.        Session 1
Continuity and Change in Monongahela 
Robert F. Maslowski, Council for West Virginia Archaeology
Monongahela is a regional culture made up of several linguistic and ethnic groups. A multi-scalar approach can be used to compare Monongahela with other regional cultures at one level and Monongahela villages on another level. This paper relies heavily on the concept of communities of practice and patterns of cordage twist. Studies have shown that cordage twist patterns can be correlated to different linguistic groups. When combined with pottery attributes and other artifact analyses, cordage twist can be a useful tool for demonstrating ethnicity, migration and social interaction patterns. Other attributes related to ethnicity such as petroglyph motifs, burial orientation, and landscape utilization will also be discussed.
10:00 a.m. – 10:30 a.m.     Session 2                                                            
Coming Full Circle: 70 Years of Monongahela Village Studies
Bernard K. Means, Virtual Curation laboratory at Virginia Commonwealth University
Mary Butler's Three Archaeological Sites in Somerset County, Pennsylvania drew on three villages excavated as federal work relief projects during the Great Depression to define the Monongahela tradition. These three village sites, along with other village sites excavated as work relief projects in Somerset County, proved integral to recent studies that showed how village social organizations can be interpreted from circular community plans. This presentation reconsiders seven decades of professional and avocational research into village sites and explores how village community patterns are central to understanding who the Monongahela were and how they once lived.
10:30 a.m. – 11:00 a.m.      Break
Coffee and Snacks in Foyer to Auditorium
11:00 a.m. – 11:30 a.m.       Session 3
The Household, the Kin group, and the Village: Social-political organization of Late Prehistoric populations inhabiting the lower Upper Ohio River Valley, ca. AD 1050 – 1635
Dr. John P. Nass, Jr., California University of California
The management of household social and economic affairs by family groups is fundamental to human societies around the world, both past and present. While many contemporary societies, such as our own, defer the management of household activities to the nuclear family unit, prehistorically, household configurations elsewhere vary considerably. Cultural anthropologists and ethnoarchaeologists have classified this variation according to the degree of exhibited independence – or lack thereof – regarding economic decisions and the control of labor. Within Late Prehistoric village communities from the lower Upper Ohio River Valley, village organization was controlled by kinship units. Prior to ca. AD 1400, political relations between neighboring village communities was overseen by community leaders chosen from these kinship units. While egalitarian in principle, leadership has its advantages. After ca. AD 1400, change in the structure of political relations emerges, with the development of intervillage alliances and regional integration. Evidence for these proposed changes is presented.
11:30 a.m. – 12:00 p.m.     Session 4
Subsistence Systems and the Monongahela Use of Animals
Sarah W. Neusius, Ph.D., Retired, Indiana University of Pennsylvania
Although data on Monongahela use of animals has been limited both by poor preservation and by methods of recovery, recorded information on faunal remains suggests a remarkable consistency in the animals of importance to the Monongahela. A variety of animal resources appear to have been used for food and raw material, but there is an emphasis in Monongahela faunal assemblages on forest and forest-edge mammals, terrestrial birds and turtles, and a variety of fish. While corn is known to have been important in Monongahela diet, insights into the subsistence system and extent of forest clearing are suggested by these data.
12:00 pm - 1:30 pm      Lunch
On your own - see order form below for box lunch option
Box lunch pickup in the Allegheny Room

1:30 p.m. – 2:00 p.m.     Session 5
The Physical Facts about Late Woodland Cultures
Dana Kollman, Affiliation
Physical anthropologists examine human remains for indicators of nutrition, illness and conflict. In like manner, our understanding of the Monongahela culture is dependent on examining the faunal and floral remains for evidence of horticultural and agricultural practices. Burial practices vary amongst Late Woodland cultures in the Americas and examination of these behaviors can also be indicators of social status, stress and disease. How does the biological data for the Monongahela differ from other contemporary groups of the Middle Atlantic and Northeast? What additional information can we learn from the biological record of these people? This presentation will focus on these and other questions as they apply to the archaeology of the Monongahela.
2:00 p.m. – 2:30 p.m.     Session 6 
Consol Site (36Wm100) Two Monongahela Late Prehistoric Villages                       
Robert Oshnock, Westmoreland Archaeological Society, Chapter 23, SPA
The Consol site is located in southwestern Pennsylvania in Westmoreland County on a high hilltop above the Youghiogheny River. Between the years of 2000–2015 it was excavated by members of the Westmoreland Archaeological Society, Chapter 23 of the Society for Pennsylvania Archaeology. The site consisted of two different Late Prehistoric Monongahela stockaded villages that were separated in time by about 100 years. An Early Monongahela Drew village was found inside a single stockade line. A Middle Monongahela village was also found that was contained inside double concentric fortified stockade lines. The stockade lines from the Early and Middle Monongahela villages overlapped each other, adding to the mixing of the artifacts. Housing settlement patterns, the placement of stockade lines and work areas within the villages along with dates that were obtained will be examined.
2:30 p.m. – 3:00 p.m.     Break 
Snacks in Foyer to Auditorium

3:00 p.m. – 3:30 p.m.     Session 7
Examining Culture Diversity in the Middle Allegheny River Valley
Kenneth P. Burkett, Jefferson County History Center and Field Associate with the Carnegie Museum of Natural History
The Early Late Woodland period populations inhabiting the upland tributaries of the middle Allegheny River Valley occupied locally isolated upland villages positioned at major fords of known historic and presumed prehistoric Indian paths. From 1977 through 2011, extensive archaeological excavations at the Fishbasket locale have uncovered a locally unique series of intense multi-occupations that share a blend of cultural traits expressing interactions with neighboring populations yet remaining distinctive to this central section of western Pennsylvania. This paper will present a detailed examination of the varied settlement patterns and artifact assemblages associated with these villages, while introducing regional cultural comparisons.
3:30 p.m. – 4:00 p.m.     Session 8
"Into Oblivion": The 17th Century Disappearance of Monongahela
Jim Herbstritt, The State Museum of Pennsylvania
What happened to the Monongahela, is a widely debated topic that remains of interest since the 1930's when Mary Butler referred to these native groups as the "Monongahela Woodland culture." Although Dr. Butler was unsure of the Monongahela's cultural makeup she noted that archaeologists should look toward connections with "Fort Ancient/Iroquois groups" based on similarities in the material remains that she found at Monongahela village sites in southwestern Pennsylvania (Butler 1939). Much has been learned about this native culture, but certain research questions continue to challenge archaeologists and historians such as "who were these people" and "what happened to them?" The focus of this presentation addresses the latter question as the Monongahela people disappear from the lower Upper Ohio Valley by the early 17th century. Three factors regarding their fate seem most plausible to consider, although there may be others, – climatic deterioration; aggression and assimilation by Northern Iroquoians; foreign epidemics introduced into virgin soil populations in the 16th and early 17th centuries. In this session we consider each of these factors on their own merit based on the current state of archaeological and historical information.
4:00 p.m. – 4:45 p.m.     Questions & Discussion
Closing Remarks - Audience question and answer session with presenters
4:45 p.m. – 6:00 p.m.     Reception
Additional Programmimg
9:00 a.m. – 4:00 p.m.
Flintknapping Demonstration
Foyer to Auditorium – Steve Nissly
9:00 a.m. – 3:15 p.m
Site Recording in the Pennsylvania Site Survey System (PASS) - Artifact Identification
Susquehanna Room
Noel Strattan, Doug McLearen & Casey Hanson, State Historic Preservation Office and Curators from the Section of Archaeology Recording of archaeological sites is an essential task in protecting and preserving our archaeological resources. Assistance in identifying artifacts and recording the archaeological sites from which they came will be provided by these qualified individuals.
---
Registration Fees
$35.00  -  Registration at Door 
ONLY Cash or Check will be accepted NO Credit Cards
For more information, please contact:
     Melanie Mayhew at 717-736-8889 
cosponsored by: