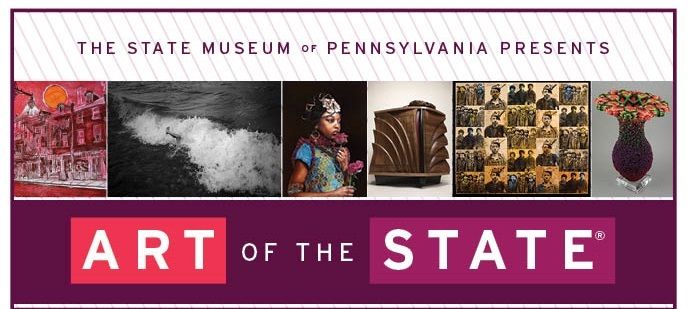 VIRTUAL AWARDS CEREMONY
Sunday, September 13, 2020
2 pm
Since The State Museum remains closed due to the COVID-19 pandemic, winners of the 53rd annual exhibit will be announced via social media on Sunday, September 13, during a pre-recorded awards ceremony at 2:00 PM, rather than the usual awards ceremony in a packed auditorium. Concurrent to the awards announcement, a 360-degree virtual exhibit will launch allowing virtual visitors to "walk through" the 6,000 square foot gallery and see works featured in this year's exhibit.  With "hot spots" containing details of each artwork and videos of larger installations, the intent is to replicate the feeling on an in person visit to the gallery. For those who cannot wait, a preview of featured artworks is available online.
The September 13 virtual awards ceremony will be distributed via Facebook and Twitter. 
The 360-degree virtual exhibit,
the archived awards ceremony recording,
an exhibit catalogue pdf,
and programming announcements
can be accessed on statemuseumpa.org/aos2020
Art of the State by the Numbers

680 artists from 324 cities and 55 counties submitted 1901 entries
108 works of art from 109 artists were selected 
Finalists Represent:
29 Counties 
41 Painters
15 Photographers
12 Ceramicists
10 Woodworkers
8 Quilters 
6 Jewelry Makers
2 Basket Weavers
1 Kinetic Artist

Artwork featured above: From left to right:  Jerry DiFalco, Water Dragon Moon, Philadelphia Chinatown, 1948; Paul Chaplin, Milo in the Wave, August 2018; Travis Prince, Royal; Paul Sirofchuck, Waves; Patty Kennedy-Zafred, Glimpse of Daylight, Boys of the Mines; Joh Ricci, Fireglow
Art of State is presented by The State Museum of Pennsylvania in association with the Pennsylvania Heritage Foundation.
The State Museum of Pennsylvania is one of 24 historic sites and museums administered by Pennsylvania Historical and Museum Commission as part of the Pennsylvania Trails of History.
The Pennsylvania Heritage Foundation is the nonprofit partner of the Pennsylvania Historical & Museum Commission, the state agency charged with collecting, preserving, researching and interpreting the treasures of Pennsylvania. Through private contributions, PHF supports PHMC in protecting and providing access to 24 historic sites and museums, approximately 9 million objects, and more than 250 million archival items.